Games, Sweet Spots, and Shredded Paper
So I invented a new game today. Keeping with the normal game-naming format, it is called the Waving Game. It's fun to play in dining hall when there are lots of people. You simply pick out a random person on the other side of the room and start waving to them very obviously. Eventually, they look at you and try to figure out whether you are waving at them or not, because they have no clue who you are. It is key that you keep clear eye contact with them, even after the point at which it would normally be awkward. The game kind of climaxes when they look behind them (which they always do)... Yeah, it doesn't get any more exciting then that. While playing this game though, I realized that the action of waving is a lot like saying a word like "dog" over and over again. It just starts to make no sense after awhile, and becomes simply a jerky arm movement.
Speaking of jerky arm movements (not really), I've got to ask: Has anyone ever found the sweet spot while lying down? The sweet spot is a position for your arm that you can find that requires little or no energy to maintain, which is
sooo
relaxing. It's when your arm is pointing straight up (vertically) into the air. It works a little better when you're slightly on your side. I introduced Terry to the sweet spot and he loved it.
Believe it or not, I once found the sweet spot
with my whole body
. I know… you're jealous. I was unwittingly sitting on my bed and Coleman was on his side of the room. All of a sudden, I notice that I felt kind of funny. Then I realized that it was because I was sitting up and completely relaxed! You wouldn't notice how many muscles it normally takes to sit straight up, that is, until you're not using them. Ah… I remember it so well: I had my head leaned back and to the left, with my right leg positioned Indian style in front of me forming a notch that my forearm was wedged perfectly into. You shoulda been there! Coleman shared my enthusiasm up until the point where he started poking me and I lost my place, due to my spastic tickle-induced-reflex flailing (STIRF)... I've got a terrible case of STIRF. What? Hey, I figure that if I give my condition a name, people will take it more seriously. Hey, it worked for ADD…
One of the things that happened recently was that we filled Erin and Leslyanne's room with shredded paper. Yep… the whole thing. As I was leaving the Chemistry and Education buildings through the maintenance doors last term, I would always collect bags of it to bring back and put in the trunk room. By last week we had about 11 or 12 huge bags of it (though it was 19 after we re-bagged it following its use). Below are some pictures of me and Coleman, and of the wall. It was naval-height when flat over the whole room, but we later made a big wall right up to the ceiling. Coleman dug a tunnel through it and a bunch of people crawled through to the other side and hung out! It was kinda fun. Erin and Lesleyanne weren't even pissed when they got home and realized that we had gotten them back. This was the pay-back for flipping a bunch of posters in Martin's (prez) room, plus how else were we supposed to get rid of the paper?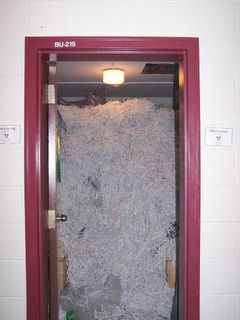 Hey guess what Valley-friends! I submitted the term "
debbie
" to
urbandictionary.com
! It is now official, if not by Websters, than by me. Might take awhile for them to put it up...
Note: I wish I could
taste music
...